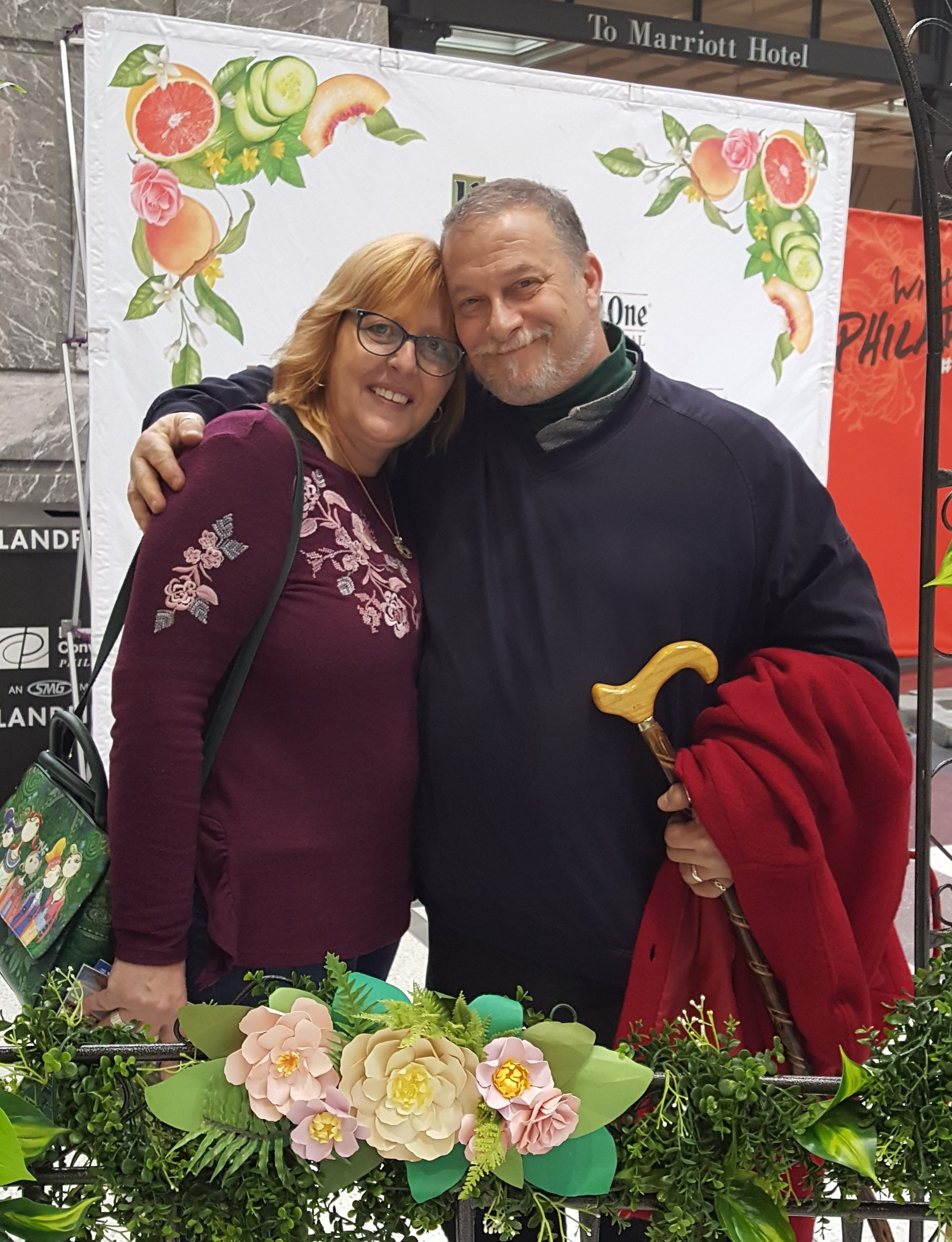 We are Dave & Bobbi Schaefer, Partners in life & business for 38 years.
We offer delicious homemade foods & amazing "make it & take it" crafts. Come join us at one of the local events or book us for private celebrations
ARTS by Bobbi Schaefer
The Arts part of our business is inspired and run by Bobbi. Crafter since childhood, she loves creating unusual items using as much recycled and repurposed material as possible. Seasonal Holiday items, Birthday gifts, Memorial Pieces the list is endless.
She has created an Interactive atmosphere to allow our customers the chance to "make it and take it" with many of our craft projects.
The Concept behind Paint Pouring is to Layer liquid paints in a cup NOT mixing them just Layering one on top of another and then transfer that paint to whatever medium you desire. It can be canvas, tile, plates, fabric, furniture the possibilities are endless.
We offer Paint poured canvases of different sizes, Paint poured charger plates and Paint poured Plate Clocks with Clock Works Kit.
We also offer Paint Pouring Parties. Sip and Paint pour parties, Birthday Parties, senior and disabled craft time lessons, Scout badges, and even Fund raisers. We provide all the materials including the table, gloves, aprons, paints, towels, everything needed to keep everyone clean and paint free.
We can provide food for your events with our food trailer & catering services.
EATS by Dave Schaefer
After 37 years in the food business as Chef, Owner, Manager, Caterer. I have finaly decided to take it on the road. I purchased a Food Trailer and am doing a variety of comfort foods with a twist…
Some Items regularly offered : SOUP & GRILLED CHEESE...
CHEESE STEAKS... CHICKEN CHEESE STEAKS... CANDIED SWEET POTATO FRIES...
HAND CUT FRIES... MACARONI & CHEESE...
PASTRY PUFF ITEMS; Smoke house Hot Dogs or Hamburgers w/ BBQ, cheddar & bacon...
Potato Puffs; plain, cheese filled, Broccoli & cheese filled.....
All are wrapped with our Pastry Puff Dough and fried served with dipping sauces
FUNNEL CAKES & FRIED OREO'S OR CHOCOLATE CHIP COOKIES
ASSORTED BEVERAGES SODA, WATERS, SNAPPLE, GATORADE ETC...
Check out our store for Crafts that are available for purchase.